Are you on the lookout for the best flexible solar panels for your next outdoor adventure? We hear you. Flexible solar panels represent an easy and effective way to go solar. To help you in the right direction, we'll be telling you about some of the best flexible solar panels currently available on the market.
Those looking to adopt the solar system way of living understand that using solar power systems can avoid drawing from your primary energy resources, which will cost more money and time. And flexible solar panels are the perfect way for anyone to set up their initial solar system at home. These offer a wide range of applications as they can be used on RV, marine, motorhome, cars, boats, caravan, roofs, sheds, garages, or other flat surfaces.
While it can be challenging to find the right solar panels for your needs, especially when you are new to the solar world, it is also not impossible. If you are in the search for the best flexible solar panels, continue reading and get inspired by the following options. Also, feel free to choose the one that suits your needs.
Best Flexible Solar Panels FAQs
What are flexible solar panels?
Flexible solar panels are portable and powerful devices that provide steady power on the go. The distinguishing feature of flexible solar panels is their ability to roll and fold, unlike conventional solar panels, which are rigid.
Why choose flexible solar panels?
Due to their flexible designs, these solar panels are helpful for various excursions such as hiking, camping, kayaking, climbing, cycling, just to mention a few. In addition, flexible solar panels can be used on boats, RVs, and autos for functions such as charging solar batteries.
We are aware RVs have become pretty popular these days, which is why we gather a list of what we believe is the Best Portable Solar Panels for RV. And if spending time outdoors is your thing, in my case, hicking is one of the hobbies we do on weekends with my family and friends; solar panels are always on my backpack; therefore, we also thought of the Best Solar Panel for Backpacking.
Are Flexi solar panels any good?
They are an excellent choice for caravans and campervans. One of the main benefits is that these are lightweight. Flexible solar panels are light and better suited to roofs that can't take much weight. Flexible solar panels are cheaper to produce and install than traditional solar panels.
Why do flexible solar panels fail?
Flexible solar panels are just what their name implies; they are solar panels that can bend. However, by "flexible," we don't mean they can be folded up. Instead, they can usually curve to a reasonable extent. If bent too much, the internal cells and electrical structure will still fail.
What is the largest flexible solar panel?
The largest flexible solar panel available with SunPower® Maxeon™ cells, all other OEM manufacturers are restricted by SunPower to making a flex panel no greater than 150W.
Do flexible solar panels last?
Flexible solar panels are less durable and tend to be more prone to damage than rigid solar panels, so they don't typically last as long as other solar panels.
Can you walk on flexible solar panels?
You can walk on certain types of monocrystalline solar and thin-film panels. Monocrystalline solar panels with a robust aluminum backing and extra-thick ETFE laminate layer are safe for walking, as are many kinds of super-flexible thin-film panels. Still, always check your products' specifications.
Do flexible solar panels get hot?
Flexible solar panels get hot, especially if you install them onto the metal roof of your RV or an off-grid cabin. Excessive heat reduces their lifespan and also makes them less efficient. It would help if you considered using a mounting rack or gluing them onto a raised aluminum sandwich plate.
How do you install a flexible solar panel?
Flexible solar panels usually come with several options for fixing. Most have metal grommets in their corners, allowing you to rig them to a frame or roof side. Some monocrystalline solar panels and all thin-film have peel & stick backsides, enabling you to paste them directly.
What features to consider when choosing flexible solar panels?
Materials
If you want your flexible solar panel(s) to last for years, consider the quality of the construction material.
The best flexible solar panels are made from ETFE material. ETFE is robust and highly weatherproof so that you can be sure of the product.
Bending Angle
All flexible solar panels are bendable. Perhaps the question is, to what extent can the panel bend? Thirty degrees seems like the standard flex range, but some panels can do more than that.
Installation
Generally, flexible solar panels are easy to install. Most flexible solar panels have pre-drilled mounting holes for a straightforward setup. Simply screw in the panel to the desired surface and paste a sealant on the screws plus the edges of the panel.
Size and Weight
Flexible solar panels are really thin and portable, but there are still minimal variations. Here you have to choose depending on your intended application. An RV would not mind carrying a heavy panel, but you will want an ultra-lightweight panel for camping.
Power
Flexible solar panels have different power outputs. Find out the amount of energy you need in your trailer or camper, for instance, to better understand the number of solar panels you will need.
Efficiency
Here we mean the amount of light the panel can convert into electrical energy. Make sure the panel has a high energy efficiency rate; anywhere from 15% to 22%
Best Flexible Solar Panels
Capable of bending for up to 30 degrees, this flexible solar panel fits perfectly in off-grid living space with curved surfaces such as an airstream camper, yacht, A-frame cabin, and more.
And a total of 6 pre-drilled mounting holes allow you to secure this flexible solar panel much more easily.
HQST flexible solar panel upgrades with pioneering narrow nine busbars (BB) solar cells to enhance efficiency and safety. Compared with other conventional five busbars solar panels, HQST 9 busbars flexible panels ensure lower microcrack risks and less power loss for improved performance.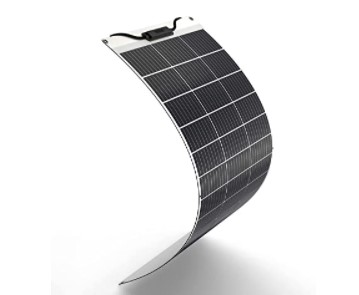 Features:
Monocrystalline Silicon
Waterproof
Dustproof
BougeRV utilizes Solar Cell with a higher-than-average 23% to 25% efficiency and an internal blocking diode, preventing reverse current drain at night.
The panel can be gently flexed, can be mounted on a Curved Roof, RV, Travel Trailer, Van, Truck, Boat, Cabin, Tent, or any other irregular surface, can also be used for Bitcoin Mining, saving electricity costs.
They are water Resistant, Semi-Flexible, and Ultra Durable Solar panels. They are ideal for RVs, boats, tight spaces, even tight spaces, or crowded areas that are typically off-limits for traditional glass and aluminum models.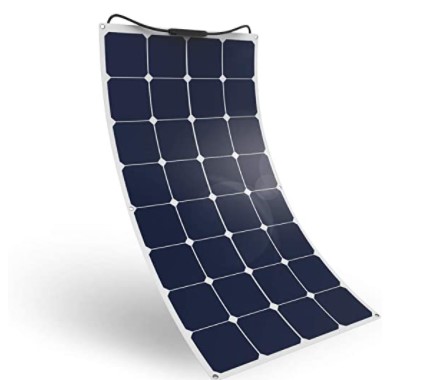 Features:
Monocrystalline PET material
Bendable
Durability
This panel is capable of meeting a wide range of applications where standard panels can be inconvenient to mount, such as on the curved roof of an airstream.
This product weighs 70% less than conventional solar panels thanks to advanced polymer materials, making transportation and installation a breeze.
Hardly noticeable, the Renogy 100W Lightweight Panel laid flat is only a tenth of an inch tall. Approximately 95% thinner than its rigid counterpart, this panel is ideal for a stealthy solar setup. This specific kind of flexible solar panel is also included in our article about Best Marine Solar Panels.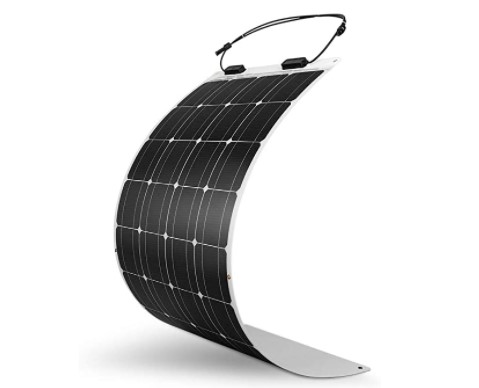 Features:
Ultra Lightweight
Ultra-Thin
Highly Durable
The Monocrystalline cell is made from up to 21% efficiency, while most conventional solar panels are 15% or even lower.
Even though the panel is no larger than a traditional model, you will get greater power efficiency. Short circuit and surge protection technology keep you and your devices safe.
The Monocrystalline solar cell is advanced laminated into a thin waterproof and flexible plastic sheet. The panel can be gently flexed to follow a smooth curve of 30 degrees max and can be mounted on a coach roof, RV, boat, cabin, tent, motorhome.

Features:
Monocrystalline Silicon
Monocrystalline Cell
Flexible
Solar energy is a brilliant solution in our daily life; ALLPOWERS SunPower solar charger has a high-efficiency conversion rate so that it can capture more sunlight than conventional solar panels does not need much sunlight to charge items.
The transformation efficiency is up to 22%-25%, while most of the similar products on the market are 15% or even lower.
Sunpower solar panel is far more durable than traditional glass and aluminum models; flexible material is ideal for storage in tight spaces or crowded areas.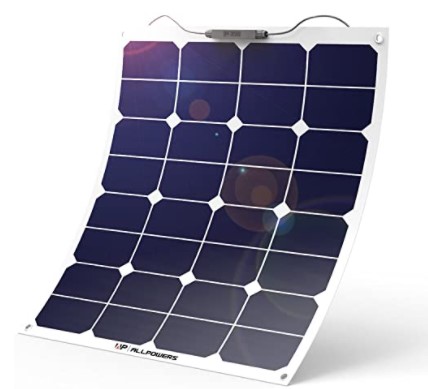 Features:
Bendable
Waterproof
Shock Resistant