Are you an avid sailor and thinking about making the change to solar energy? Then you may want to consider investing in the best marine solar panel money can buy. If you are on the lookout for solar panels for your next boating adventure but have no idea where to start, we'll be telling you everything you need to know about some of the best marine solar panels out there.
Those who spend quite a bit of time out in the open sea understand how challenging it can be to stay in contact with the world if you are not prepared. While it is true that you are looking to get away from all the 'noise.' That said, the use of personal electronic devices while at sea can make your trip experience more accessible and safer. Just picture finding your way back to camp thanks to navigation apps or how rechargeable camera batteries help to reduce waste.
As you can see, a marine solar panel can improve your boating equipment and give you the peace of mind you've wished for. However, if you are new to marine solar panels and find yourself searching for the best possible option for you and your needs, things may seem a bit overwhelming. But do not worry because we'll be breaking down everything you need to know. Check out below some of the best marine solar panels.
Best Marine Solar Panels FAQ
Why choose solar panels for your boat?
A solar-powered boat means you're getting a lower power load and a minor penalty for carrying the extra weight. You can generate power as you go or at anchor and store it, then use that electricity to power your motor, boat's appliances, and accessories when you need it.
Are marine solar panels worth it?
Definitely yes. Not only can they lower your power load, but you'll also save money generating free electricity. Your solar boat may be able to take trips entirely on solar. Having a solar sailboat means charging your batteries even while away and having your boat ready to go when you get back.
Where to place solar panels on a boat?
Common mounting locations for rigid panels are biminis, radar arches, lifelines, decks, and hardtops. You can even put them on sticks with a sturdy backing panel.
Flexible panels can be mounted almost anywhere due to their nature and held down with straps and bungee cords. You can place them on canvas dodgers, biminis, dinghy davits, and sail covers.
How do marine solar panels work?
Solar energy systems on boats work similarly to other portable, off-grid systems. When solar energy hits the marine solar panels, it activates the electrons. It starts producing DC charges. This directed energy is saved in batteries. This current can be used to support the boat's electricity needs. If the boat appliances run on AC electricity would need an inverter to convert the produced DC to AC.
Standard vs. Adjustable marine solar panels
Adjustable panels: As the name suggests, adjustable marine solar panels are adjustable. It is light and without a metal backing. It can be bent and used for installing on different boat surfaces, where installing large solar panels would be impossible.
Standard panels: Standard marine solar panels are the standard panels that hold aluminum support. It can withstand harsh weather conditions stronger than flexible marine solar panels. Aluminum backing is used for this panel. Therefore, it is heavier than adjustable panels.
A standard marine solar panel is stronger. It has a long life, like a residential solar system. Indeed, it lasts around 20 years. Adjustable marine panels have a much smaller lifespan of nearly five years.
What are the types of marine solar panels?
Glass-fronted panels: These are the most popular solar panels for boats. It offers the most power at a lower cost. It can be either polycrystalline or monocrystalline. Polycrystalline is cheaper, larger, has lower energy conversion efficiency, and doesn't work so well in scorching weather. Monocrystalline is more expensive, smaller, very efficient, and more effective during hot weather and even on cloudy days.
Polycarbonate panels: Polycrystalline solar panels like the Renogy, HQST, and WindyNation panels are more popular among mariners. That's because they're cheaper and work well in a wider variety of temperature conditions. Polycrystalline panels aren't quite as efficient as monocrystalline panels, but the reduced costs essentially make up for this by allowing you to buy additional panels.
Thin-film solar panels like the Sunforce panel aren't all that common on boats because they are nowhere near as efficient as crystalline solar panels. That means that if you want to generate a lot of power with thin-film panels, you need a lot of space covered with solar cells. So, thin-film solar panels are typically reserved for low-power applications on sailboats.
What to know about installing marine solar panels?
While installing solar panels, the first step of the process would be an energy assessment of the boat. The energy needs can be calculated by checking the labels on the appliances of the boat for the typical amp hours and volts used.
A battery monitor can also help measure the amount of energy the appliances on the boat consume while in use. An average 30-foot boat would require about 300-350 watts of power.
Depending on energy consumption and boat size, the wattage required by solar panels can be determined. In addition, the size of the panels is dependent on it.
A charge controller acts as a regulator for the amount of energy that is transferred from your solar panel into your boat's battery. It helps to manage the energy load that the battery receives.
The charge controller prolongs the battery's life by ensuring that the boat uses the exact amount of energy it needs. It makes sure that the battery is not overloaded and overcharged, ruining the battery over time.
How many solar panels does it take to charge a marine battery?
Charging your battery at 12 volts and 20 amps will take five hours to charge a 100 amp hour battery. By multiplying 20 amps by 12 volts, 240 watts is how big a panel you would need, so we'd recommend using a 300w solar panel or 3 100 watt solar panels. Speaking of 100-watts solar panels, if you are looking for the Best 100 Watt Solar Panel, we suggest taking a quick look at our article on that topic.
What to consider before choosing the best marine solar panels?
Maximum power (Pmax)
Depending on what type of appliances you intend to run off of your batteries, you need to decide how much wattage your solar panels need to supply. The best guideline is to get panels that will provide 20% more power than you need.
The voltage at Pmax (Vmp)
The voltage is the amount of energy that is required to move energy from one source to another. Depending on the voltage requirements for your batteries and appliances, you will need to make sure that the solar panels provide the proper amount.
Current at Pmax (Imp)
The current, or AMP, is how quickly the power will flow from the solar panel to your batteries. The higher the current, the quicker the batteries will recharge.
Dimensions
The dimensions of the solar panel will play a big part in how much energy they can provide you. Basically, the larger the panel, the more sun they can soak up.
Weight
Solar panels are, by and large, relatively light. This makes them perfect for pretty much any craft. It will also allow you to choose from permanently installing them or just putting them up when you need them.
Additional Features
Since you will be mounting these panels onto a boat, you need to make sure that they are entirely waterproof. Otherwise, they will fail quickly when you are out on the water.
Best Marine Solar Panels
This panel can meet a wide range of applications where standard panels can be inconvenient to mount, such as on the curved roof of an airstream.
This product weighs 70% less than conventional solar panels thanks to advanced polymer materials, making transportation and installation a breeze.
Hardly noticeable, the Renogy 100W Lightweight Panel laid flat is only a tenth of an inch tall! This panel is approximately 95% thinner than its rigid counterpart; this panel is ideal for a stealthy solar setup.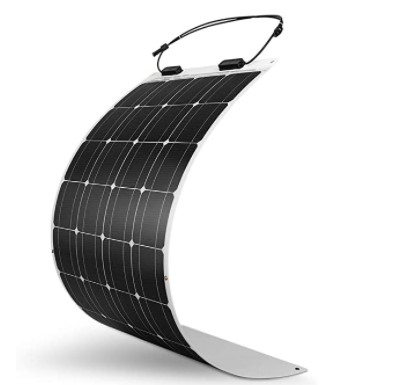 Features:
Extremely Flexible
Ultra Lightweight
Highly Durable
If flexible solar panels are something that caught your attention, check out more options from our article on Best Flexible Solar Panels.
This 200 Watt solar charging kit provides up to 200 watts of clean, free, renewable power.
PWM Solar Charge Controller has user adjustable settings!
LCD Screen shows voltage, solar panel status, battery state of charge, and DC load draw. Compatible with lead-acid, AGM, gel, and lithium batteries.
They are designed for RVs, cabins, homes, boats, backup, and remote power use. The two solar panels can be wired in parallel for 12V battery charging or in series for 24V battery charging.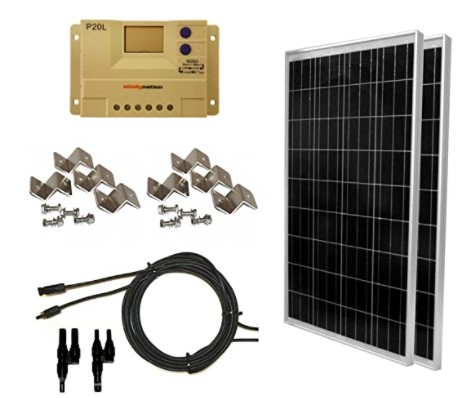 Features:
LCD Solar Charge Controller
UL Listed 12 AWG Solar Cable
200 Watts
With a Renogy 100W Monocrystalline starter kit MPPT, you won't have to wonder about whether or not you're getting the most out of your system.
Designed to draw out your system's potential, This kit includes our 20A MPPT Charge Controller, which uses Maximum power pt.
Tracking technology, transferring power up to 30% more efficiently than PWM charge controllers.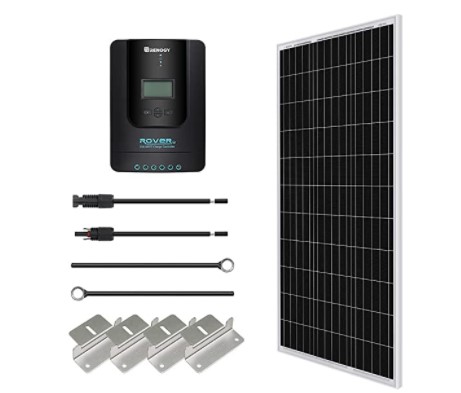 Features:
Easy Installation
Multiple Protection
Wide Application
Smart PWM charging Intelligent protection against reverse polarity, overcharging, short-circuit, and reverse current. Integrated 5V 2A USB ports to charge phones USB devices
.If you use the built-in MPPT Power Station, you don't need to connect the attached PWM controller.
With high-efficiency monocrystalline solar cells, you will get greater power efficiency even though the panel is smaller than a traditional model. Maximizes system output by reducing mismatch loss.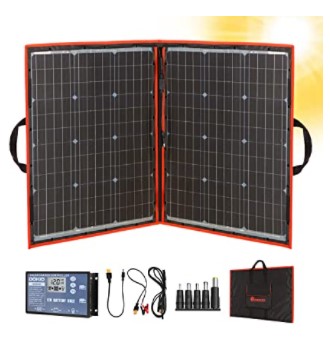 Features:
Solar Charger With Controller
2 USB Output
Monocrystalline
The high-performance cells are encapsulated in EVA (ethylene-vinyl-acetate) & placed between high transparent low iron tempered glass & a durable TPT (Tedlar-polyester-Tedlar) back sheet.
The panels are framed using heavy-duty anodized aluminum frames, providing exceptional panel rigidity.
Diodes are pre-installed in the junction box, with a pair of pre-attached 3ft MC4 cables.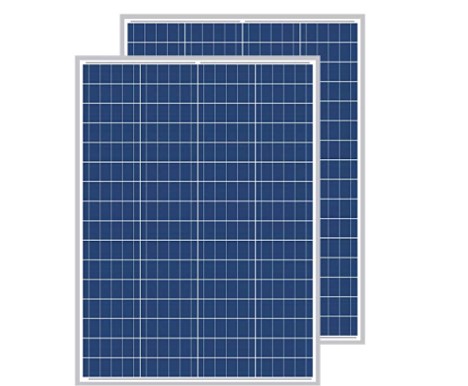 Features:
1pc Maximum Power
Smaller Size
Polycrystalline