Are you on the lookout for the best solar panel for your next outdoor adventure? We hear you. Solar panels represent an easy and effective way to go solar and bendable, and more compact models are perfect for the backpacking types. To help you in the right direction, we'll be telling you about the best solar panel for backpacking and more available now.
When you think about packing, you are indeed looking to soak in nature and get away from all the 'noise'; that said, using personal electronic devices in the outdoors can make your backpacking experience more accessible and safer. Just picture finding your way back to camp thanks to navigation apps or how rechargeable headlamps and camera batteries help to reduce waste.
While it can be challenging to find the right solar panels for your adventure needs, especially when you are new to the solar panel world, it is also not impossible. If you are searching for the best solar panel for backpacking, continue reading and get inspired by the following options. Also, feel free to choose the one that suits your needs.
Best Solar Panel for Backpacking FAQs
What is a solar charger?
A solar charger is a small machine capturing the sun's energy using solar panels. It converts solar energy into electrical power, carefully stored in a battery.
Are backpacking solar panels worth it?
In a few words, solar panels can keep all your gadgets working, thus making the outdoors even more entertaining and safe. As our reliance on these crucial tools continues to increase, so does the importance of keeping them all charged. And it is now possible to carry all the energy you'll want in your pocket or to draw it directly from the sun as you go.
That said, a solar panel on the backpack might not harvest at peak efficiency, but it is better than nothing at all. You may have to walk slow, but when the miles don't matter as much as the smiles, a little extra weight isn't necessary.
Do solar chargers work?
A solar charger is also a great idea for your emergency preparedness kit, along with essential tools and supplies. All that being said, solar technology is a viable one for charging your mobile devices. Still, some chargers work better than others, and not all are designed to handle every situation.
How do backpackers charge their phones?
A solar panel on its own is an excellent way to keep your devices charged while traveling, but pair one with a portable USB battery pack, and you'll have a complete energy system. This approach allows you to store the solar panel's energy and save it for use at another time.
Do solar panels work at night?
While solar panels can still function on cloudy days, they cannot work at night. The reason for this is simple: Solar panels work because of a scientific principle called the photovoltaic effect, wherein solar cells are activated by sunlight, generating electrical current.
What devices can you power or charge with solar panels for backpacking?
Depending on the size and power of the solar panels, they can charge numerous devices.
The smallest solar banks can hold enough electricity to charge a phone, flashlight, maybe even a USB fan. As you get larger and larger, you'll be able to charge bigger devices that require more power, such as a laptop or a camera battery. Manufacturers and engineers are trying out ways- and have been successful recently- to charge your electric car's battery for safe, green charging on the go.
What to look for in the best solar panel for backpacking?
Solar Panel Type
Monocrystalline panels: They possess the best quality, so their prices aren't as wallet-friendly as the rest. . In detail, operating well in high-temperature situations and earn a 20-percent efficiency rate.
Polycrystalline panels: Actually, polycrystalline panels only perform slightly less competently than monocrystalline panels in high-temperature circumstances. While monocrystalline panels are made from crystal, poly ones are made from many.
Thin-film panels: Compared to their crystalline counterparts, thin-film discussions seem less convenient and less efficient. They only yield a low-efficiency rate. Also, they need a larger area of coverage. However, they are the cheapest pick.
Inverter Rating
This is an indicator showing the maximum quantity of watts you could draw from the charger at any time. It would help if you considered how much watts fit your desire; you may need a charger with a large inverter rating.
Charging Capacity
It is one of the most pivotal factors that decide mainly whether to buy a specific solar charger. The charging capacity differs according to the battery's type and size. The distinct device performs differently.
Compatibility
It is a highly crucial factor when it comes to opting for a charger. If the charger isn't compatible with your gadgets, it is injudicious to buy them. As a result, please kindly check whether your devices' model, voltage, size, and power are compatible with the solar charger's specifications or not.
Warranty
The warranty duration somehow could represent the durability and reliability of a particular product. Hence, the longer the warranty duration is, the greater your charger is.
Are all solar panels for backpacking weatherproof?
Not all solar chargers feature weatherproof or waterproof. So, when making a purchase, don't forget to ask about the waterproof and weatherproof features.
Best Solar Panel for Backpacking
PowerIQ delivers the charging speed up to 2.4 amps per port or three amps overall under direct sunlight. 21 watt SunPower solar array is 21.5-23.5% efficient, providing enough power to charge two devices simultaneously.
Compact size and stainless-steel eye-holes on each corner allow easy attachment to backpacks, trees, or tents. The lightweight and ultra-thin design make it ideal for long treks.
Industrial-strength PET polymer-faced solar panels sewn into a rugged polyester canvas offer weather-resistant outdoor durability.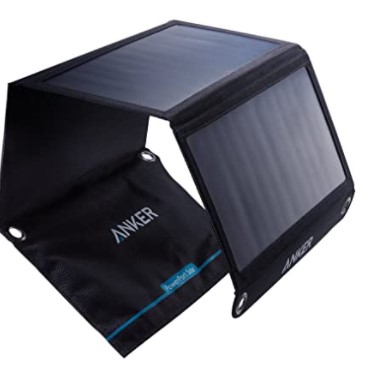 Features:
Fast Charging Technology
Durable
Compact Size
Suaoki knows charging only one device at one time is far away enough; that is why this gadget comes with different accessories to meet your other charging requirements.
The dual-ports enable you to charge your mobile device through the USB port while charging your tablets via the DC port.
Meanwhile, you can charge your car battery with the included cigarette lighter adapter or charge the storage battery by using the clamp without overloading or overheating the devices.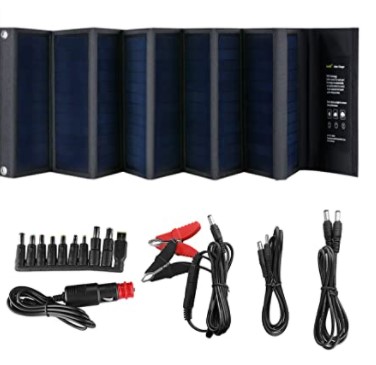 Features:
USB Ports
TIR-C Technology
The high efficiency of its three solar Monocrystalline panels cell is based on SunPower Maxeon technology, which allows the USB solar charger to reach 21%-24% of conversion efficiency while providing enough power.
The Microchip of Nekteck solar phone charger support detects the electronic devices plugged into the USB ports for fast charging two phones simultaneously under safe conditions and the prevention of overheating.
The canvas surface and precision stitching withstand rugged outdoor use, and the PET polymer cover guarantees IPX4 waterproof level protection.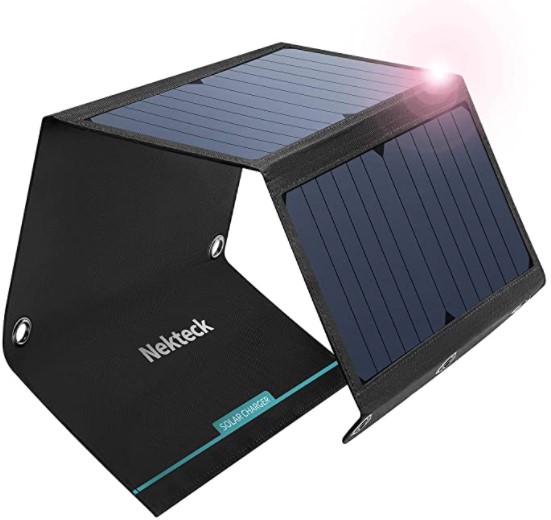 Features:
Portable/Foldable
Durable
Smart IC Chip Technology
The Solar charger made by SUNPOWER highly efficient solar cells converts up to 22% of solar power into free energy.
The charger utilizes the natural sunlight to charge your device, like a Cellphone and Ipad simultaneously.
Built-in Smart IC frequency technology automatically adjusts to connected devices and provides the optimal charging current to minimize charging time; it detects all connected devices' input and distributes current output accordingly to sunlight level.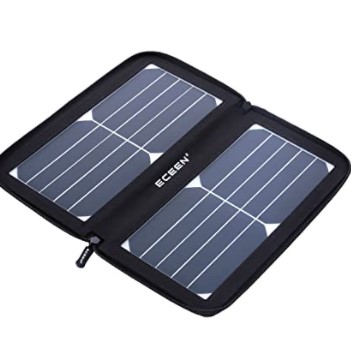 Features:
Compact
USB Smart Output
Zipper Pack Desing
Converting a virtually unlimited supply of solar power to much-needed battery juice for your mobile devices such as an iPhone, iPad, and many more USB portable devices while you are on the go or there is a power outage or disaster strikes.
The Instapark Mercury 10 is a light and compact USB solar charging system that easily fits in your purse, messenger bag, or backpack.
It combines three solar panels totaling 10 watts and folds up into a pack about the same size as a hardcover book, but only thinner and lighter.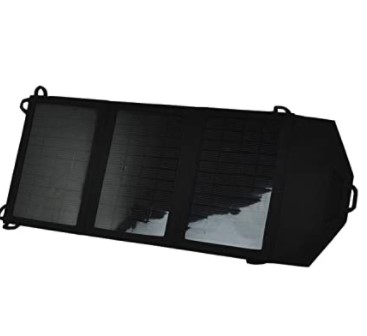 Features:
Dual USB Ports
Mono-crystalline
10 Watt
One of the smallest and lightest solar chargers on the market. Extra hanger included, easy to hang on your backpack, perfect for camping, hiking, and various outdoor activities.
Every USB port or micro USB port is covered by a rubber cap, better protect the battery from water; reinforced corner makes it more rigid and sturdy; rugged surface to avoid slipping.
Made of eco-friendly silicone rubber and ABS + PC material. CE, FCC, RoHS certified, reliable, and durable.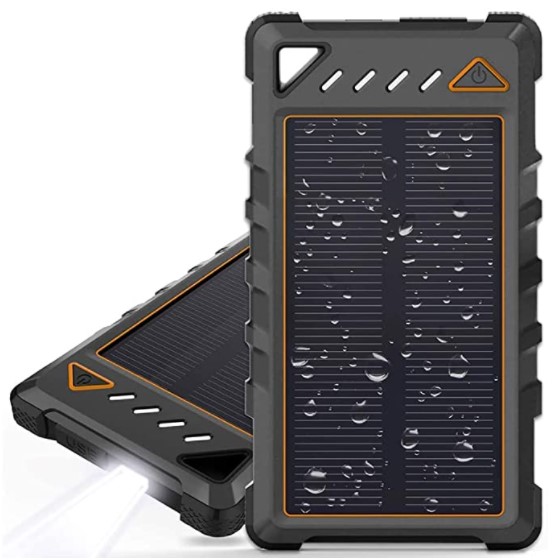 Features:
Dual USB Ports
Waterproof
Safe to Use
Rubberized military shell and sealed ports; IP67 waterproof, dustproof, dirtproof, crushproof, and drop-tested to withstand the abuses of the wild; the perfect partner for your favorite outdoor adventures.
It frees you from messing cables, recharging your Qi-enabled smartphone on the go without a power cord; charge up to three devices simultaneously.
Clip the unit to the outside of a backpack to get charging on the go. It's perfect as backup power or in emergencies.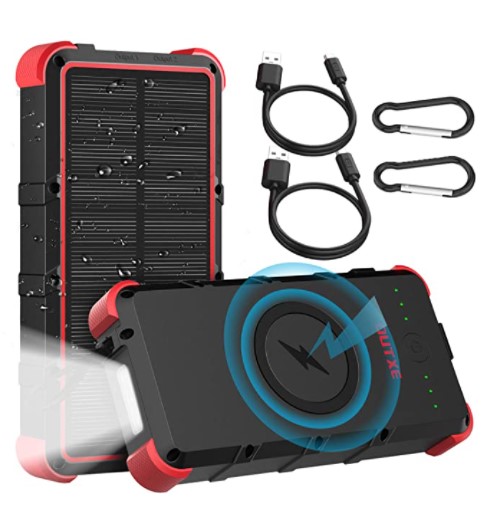 Features:
Waterproof
Cable-free
4A Double input