Are you on the lookout for solar panels for your RV? We hear you. What you are looking for is actually portable solar panels; after all, you either spend a lot of time in your RV or use your RV as your primary residence, one that is likely to be on the move. To help you in the right direction, we'll tell you about solar some of the best portable solar panels for RV.
Those who live in RVs understand how challenging it can be to translate your style and personality into tiny reality. But just because you have adopted this minimalistic approach doesn't mean you can't enjoy modern features such as solar panels.
While it can be challenging for RV owners to attempt to translate their style and personality into RV reality, it is not impossible either. For obvious reasons, solar panels may represent a bit of a challenge; nevertheless, it is possible with planning, creativity, and hard work. If you are searching for the best portable solar panels for your RV, continue reading and get inspired by the options below.
Best Portable Solar Panels for RV FAQs
What is a portable solar panel for RVs?
A portable RV solar panel is very similar to a solar panel you see installed on the roof of an RV, except that it can be moved from place to place and is stored in your RV for travel and when not in use.
Though solar panels have been around for a long time, you can easily set up and take down portable ones as needed. Portable solar panels use lightweight silicon panels and attached charge controllers to store and generate electricity. You can use them for many purposes and quickly move and put them away.
Why choose the Best Portable Solar Panels for RV?
Free, free energy from the sun is transformed into pure DC electricity. No costly fuel is required.
Best For Your Batteries: The best way to charge your batteries is slowly and steadily with pure DC, and that's precisely what RV solar panels do.
Silent: No noise, unlike generators or wind turbines.
Safe: There is no risk of carbon monoxide poisoning or fires as with a generator. The risk of electric shock is minimal due to the low levels of current produced.
Clean: No messy fuel or oil to deal with.
Better for the Environment: Does not pollute the air or release CO2 into the atmosphere when operating.
Fully Automatic: Flip the switch on the solar charge controller, and that's it. Your batteries are charged while the sun shines, and the unit shuts off when the sun goes down.
What is good about portable solar panels?
No installation needed: There's no installation necessary with a portable solar panel. No holes need to be drilled into the roof of your RV for mounting hardware or to run cords through to the charge controller.
Portability: One of the great benefits of portable RV solar panels is that they can be moved to wherever the sun's light is most prominent. When the sun moves, the discussions can easily follow it to continue to best capture the sun's power.
May have USP ports: Some portable solar panels for RVs have built-in USB ports that allow you to charge devices directly from the panel itself can connect to a solar generator easily: An everyday use of portable solar panels is to connect them directly to a compact solar generator, forgoing the need to deal with batteries and a charge controller.
Who are portable solar panels best for?
Even though a portable solar panel can help all RVers, they work best for weekenders that only need to charge something for a short amount of time. A complete roof-mounted solar panel system may be more appropriate for a full-timer.
This powerful technology has come a long way, especially for portable solar panels for your RV. They have become lighter and easier to use. Ultimately, a flexible solar panel may be the perfect solution for your RV; you can always look for other flexible solar panels from our Best Flexible Solar Panels to use on your RV; they are also an excellent option for your cabin, shed, motorhome.
How many solar panels do I need to run an RV?
Most solar panels for RVs are between 100 and 400 watts of power, and an RV needs about 120 watts of energy on average. This means that an RV will need three 400, ten 200 solar panels, or any other combination of power outputs to meet its typical energy demand of 120 watts.
What will a 100-watt solar panel run in an RV?
Things that can be efficiently run on a 100-watt solar panel are laptops and phone chargers, ceiling fans, LED light bulbs, and DVD players. Anything bigger than that will generally require more than one 100-watt solar panel.
Can a 100-watt solar panel run a refrigerator?
As a general rule, 100-watt solar panel can run a refrigerator for a short time only and would also need a battery. One hundred watts of solar panels can generate on average 400 watt-hours of energy per day. A refrigerator with a combined freezer needs 2000 watt-hours/day.
What types of portable solar panels are there?
Polycrystalline panels can be identified by their light blue color. The process used to make polycrystalline silicon is simpler, making these panels less costly to produce and thus less expensive to buy. However, they're also slightly less efficient than monocrystalline solar panels.
Monocrystalline panels can be identified by their darker blue/black color. These panels are not only more efficient at generating power but (as a result) more space-efficient because they're smaller. Monocrystalline panels are more expensive than polycrystalline panels.
How to select the Best Portable Solar Panels for RV?
Watts
The wattage of a solar panel tells you how much electrical power output it provides. Since we all use electricity differently, how much wattage you need depends on your individual power needs.
Most panels come with anywhere from 100-200 watts. If you only plan to use 12V lights and a restroom fan for an hour a day, 100 watts would be sufficient.
However, if you plan to run a 12V tv each day, you likely want to go for a wattage that is closer to 200.
Weight
If you travel around quite a bit, you will find yourself having to load and unload your portable panels. Depending on your age, physical strength, and how your storage is set up, weight might be one of the most critical factors for you.
Cord Length
Portable solar panels come with different length cords. If you like to park your RV in the shade, then you might want to consider getting a longer cord than if you park in the sun.
Best Portable Solar Panels for RV
Unzip the bag and pull out the portable panel. Open the clasp and unfold the panels (except for the 45-watt portable, which is a single panel).
Pull out the support legs and set the panel out in direct sunlight. The panel will sit at an angle and face the sun as directly as possible for maximum efficiency.
Use the included SAE port to plug the kit into a Zamp Solar Ready port, or use the included alligator clamps to connect directly to the battery.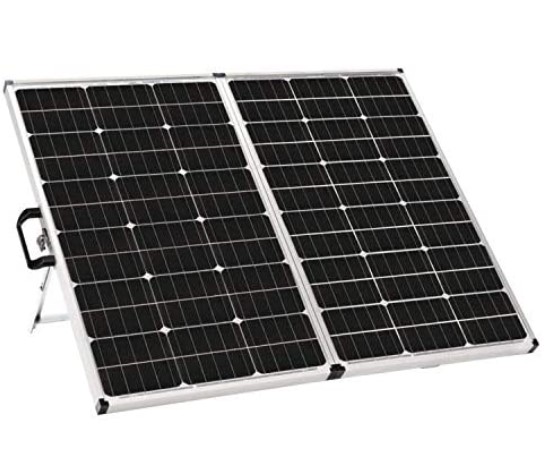 Features:
12 Volts
Nylon
Slim, easy-to-store case
The Renogy 100W Eclipse Solar Suitcase is a convenient and portable power solution. The Renogy 100 Watt 12 Volt Eclipse Solar Suitcase is an entire solar power system incorporated into one compact package.
Built with the most efficient monocrystalline solar cells that Renogy offers, this power unit weighs a mere 20. 3 lbs.
This lightweight suitcase includes two 50 Watt Monocrystalline Solar Panels, one 20 Amp Voyager Charge Controller with an LCD Screen for power regulation, one 10ft tray cable with alligator clips for easy connection to the battery, and a protective casing for safe portability.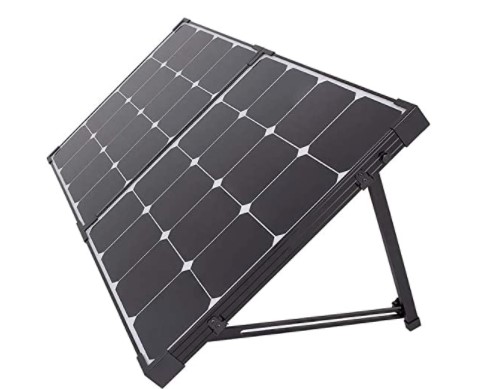 Features:
Waterproof Charge Controller
Protective Casing
Two 50 Watt Eclipse Solar Panels
ECO-WORTHY upgraded 120w portable solar panel, weighing only 9 pounds (4.2kg). Ideal for camping, hiking, RV, van, travel trailer, and unexpected power outages. Easy storage and move around.
20A LCD controller can protect Lithium/Gel/Lead-acid battery from overcharge and short circuit while charging, 5V USB ports for phones, tablets, and other USB devices.
Built-in kickstand allows you to get up to 25% more solar energy than flat laying. The 3 meters cable enables the solar panel to follow the sun without overheating the power station.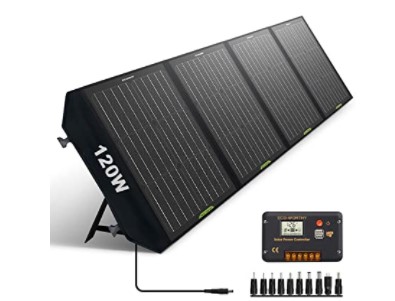 Features:
Portable Generator Power Station
USB Controller
Power Bank
AC power 120W Foldable Solar Panel Suitcase features an extra portable design with durable quality for outdoor activities.
In the pocket of the suitcase, it has a 10A LCD charge controller (USB output included), Alligator clamps for battery charging, two pairs of MC-4 Connectors where the charge controller could be removed, or an extension cable could be inserted, and SAE to SAE adapter where it can be connected to the RV directly.
The PV suitcases are also available 50W 70W and 105W Portable Solar Panel Kit Suitcase. Fabric and cell surface are waterproof for outdoor. The pre-installed wires and stands allow an easy setting-up in 2 mins.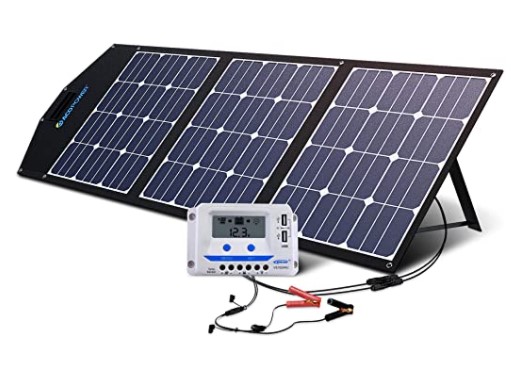 Features:
12V Foldable Solar Panel
10A Charge Controller
120 Watts
The Windy Nation 100 Watt Complete Solar Charging Kit allows you to start producing free, clean power from the sun.
Perfect for RV's, boats, cabins, and backup power. LCD Screen shows system amperage, voltage, amp-hours, temperature, and DC load draw. This kind of solar panel is also suitable for your shed; if that is something you are interested in looking into, check what the Best Solar Panel Kit for Shed is.
The WindyNation, 100 Watt Solar Charging Kit, is the ideal solution for providing backup power or off-grid power when you need it.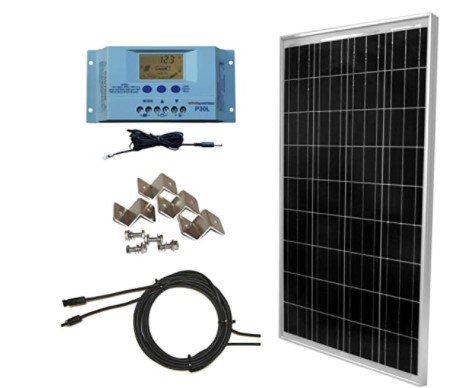 Features:
LCD Display
Solar Charge Controller
Battery Temperature Sensor
Here is a great addition to have in your RV, the Best Solar Panel for Backpacking, if you plan to include hiking in your list of activities when driving into the woods!!